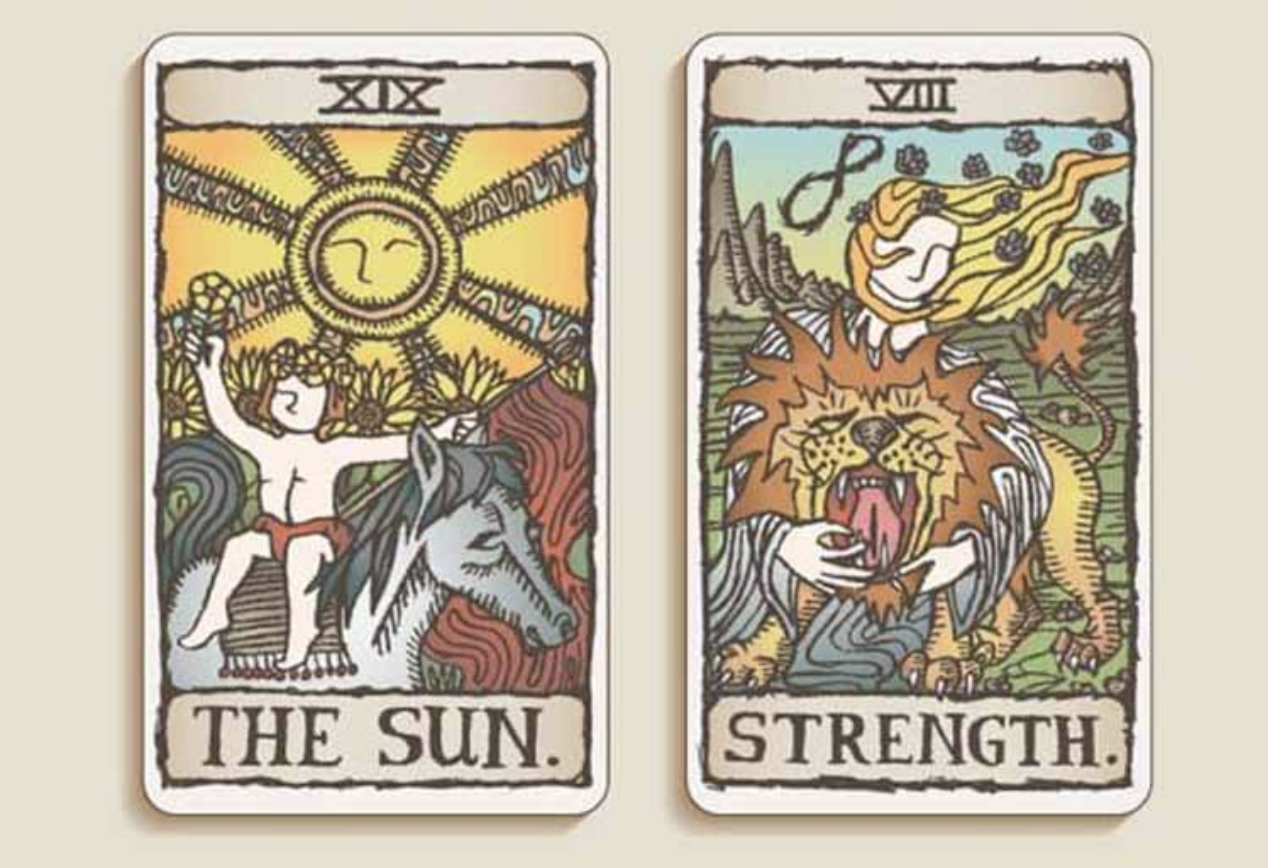 I was given a tarot deck at the age of 25 and told that it would be a part of my destiny to read the cards one day. I had no idea at the time, how that would pan out; especially when I looked at the 78 cards and the small booklet that came with them that seemed to have at least 20 different one-word meanings for each card. I thought it was going to take me forever to learn them, and I was right - I'm still a student of the cards over 30 years later.
I've learned a few things over the years however, and I truly love to give readings. From where I look, the cards are a vortex or an opening to the unconscious and if used correctly can be a real catalyst for personal transformation.
There are many ways to look at our unconscious, with the most obvious being to simply look at the events and repetitive patterns that play out around us, but that can not always be so easy to fully understand, especially when we are so very much involved in what is happening.
The tarot, when revered and honoured, is literally an incredible tool to show us what is happening in our life at this time from a pattern level, for it to be showing up the way it is.
They also reveal what the best way forward is, what to look out for and what the possible future outcomes are.
It can assist in making important life changing decisions as well as questions related to important people in our life.
Of course, the reader is a very important cog in the wheel of getting a reading and you need to feel comfortable with the person you read with, plus you need to know that they have enough experience and knowledge as a reader.
The type of reading you want is also incredibly important before deciding your reader. Some people just want their fortune to be told without really wanting to see anything about themselves or how they are contributing to the way things are for them. There is nothing at all wrong with this type of reading, but it's not the sort of reading I offer. 
I'm a professional spiritual coach, and have been coaching for many years, so my readings are a combination of my experience as a life and spiritual coach as well as a tarot reader.
The tarot is an amazing tool, that if used correctly, can empower us to reach our highest potential, as well as offering insights into future realities.
Our unconscious mind communicates in symbols and feelings and the tarot cards are a wonderful means to translate that language in a way that our conscious mind is then able to assimilate and take action on if necessary.
I conduct my readings in person over Skype or zoom or the likes and I connect spiritually once we are connected via the web to ensure the reading is accurate.
Please be prepared to reveal to me as much as possible about your life situation before we start the reading. I know this may sound counterintuitive but the more information I have about your situation, the more obvious it is to me what the cards are revealing.
Cost per reading UK£150 for 90 minutes.
 I have had many Spiritual readings with Mark over the last 20 years, his advice and guidance has helped me enormously, especially during difficult times, or when faced with a very tough decision. During my first ever reading, he mentioned something so outrageous, I thought it would never happen. Within the year it had. I can't recommend Mark and his readings highly enough.
I've had the privilege to have many tarot card readings with Mark. The first time it was in Feb 2011 and that reading really blew my mind, because every single thing that he told me in that first reading came true and it happened exactly as he told me. Of course since then, I've been having readings with him regularly and it's been so accurate that sometimes it's been really scary. I really love his readings and I really appreciate all the things that he's told me, it has made a big change in my life and it's helped me transform tremendously. Thank you Mark!
In every reading I've ever had with Mark his insights give me a much better insight as to what I'm going through at that time. I always get a much clearer vision of what to do next. I feel like my soul is in a safe place to open up as he guides me through the messages of each card. I love that connection with Mark in each reading and look forward to the next one.
I had the privilege a few weeks ago of having a Tarot reading done by Mark. Mark is fantastic. The reading was relevant and insightful. I never felt rushed, and Mark patiently guided me through each card and its individual and contextual significance. The reading reveled depths of aspects of my life that I had not considered and Mark provided clear guidance for the way forward. It was an amazing experience and I can't wait for the next reading. 
Through Mark's tarot reading, I could see what I was encountering and the opportunities I now had that I couldn't see before. He is an amazing advisor and listener. It definitely helped me to find the best way to go. Also the talk with Mark was very healing.
Mark's card readings are impressively accurate and insightful. He seems to channel the right messages for me that are far beyond what the cards are showing. He is accurate and seems to be able to comment on certain topics that he had no idea of but are very relevant to my situation. I leave the reading feeling positive within myself whilst having a clear course of action to improve my life. If you're looking for a great tarot reading then I highly recommend Mark, as you will certainly get more than you bargained for.
On my spiritual path, working with Mark has been a blessing for me; from guided meditations, healing workshops to tarot readings. All of the work I've done with him has felt like major milestones being reached in my own healing journey. His card readings especially feel like the universe is talking to me in the most accurate way; sending it's more powerful messages through the voice of a dear friend and master.